Meningkatkan Kompetensi Guru Fisika dengan Model STM "Two in One" Melalui Pelatihan dan Pengembangan Media Ajar Fisika Berbasis CMS (Content Management System), Web EXE dan Arduino di Kabupaten Purworejo
Abstract
The purpose of this study is to provide training in making physics teaching media modules by utilizing WebExe CMS as well as training in making laboratory practice tools using Arduino microcontrollers and sensors. The problem faced by physics teachers at Puworejo today in designing web-based learning modules is the low understanding of the use of CMS learning applications. Partners in this study were physics teachers who were members of the Physics MGMP throughout Purworejo Regency, namely SMA N 1 Purworejo and SMA Muhammadiyh Purworejo. The research method used is training with the two in one STM (Sains Teknologi Masyarakat) model that integrates the provision of web-based teaching module training materials as well as training in the manufacture of practical tools based on the Arduino microcontroller. The results obtained that 50% of the training participants stated that the training was very useful and 90% stated that it would be carried out regularly. This training adds insight and ability to participants about IT-based media with e-learning material by 67% and arduino-based teaching media materials by 25%. It is expected that this training can improve the ability of participants in the development of further teaching media.
Keywords
STM, CMS, E-Learning, Media ajar fisika, Arduino.
References
Akcay, H., & Yager, R. E. (2010). The impact of a science/technology/society teaching approach on student learning in five domains. Journal of Science Education and Technology, 19(6), 602-611.
Asy'ari, M. (2006). Penerapan Pendekatan Sains Teknologi Masyarakat dalam Pembelajaran Sains di Sekolah Dasar. Yogyakarta: Universitas Sanata Dharma, 37.
Poedjiadi, A. (2005). Sains teknologi masyarakat. Bandung: PT Remaja Rosdakarya.
Poedjiadi, A., & Al Muchtar, S. (2014). Filsafat Ilmu.
Pratiwi, U., & Nurhidayati, N. (2017). PENERAPAN SAINS TEKNOLOGI MASYARAKAT (STM) UNTUK PENINGKATKAN KEMAMPUAN PEDAGOGIK GURU DAN CALON GURU PAUD KEC. PANJER KAB. KEBUMEN. Journal of Dedicators Community, 1(1).
Risdanto, B. (2014). Pengembangan E-Learning Berbasis Web Menggunakan CMS (Content Management System) Wordpress Di SMA Negeri 1 Kota Magelang. Program Studi Pendidikan Teknik Informatika, Universitas Negeri Yogyakarta.
Rochayati, U., & Suprapto, S. Kefektifan Trainer Digital Berbasis Mikrokontroler dengan Model Briefcase dalam Pembelajaran Praktik di Smk. Jurnal Kependidikan: Penelitian Inovasi Pembelajaran, 44(2).
DOI:
https://doi.org/10.34001/jdc.v2i2.761
Article Metrics
Abstract view : 162 times
FULL PDF - 108 times
Refbacks
There are currently no refbacks.
We are Proud Member of Asosiasi Jurnal Pengabdian Kepada Masyarakat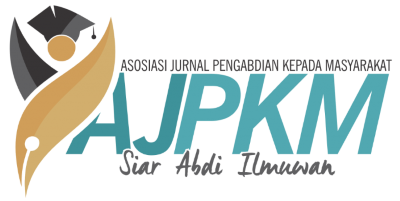 Journal of Dedicators Community is licensed under a Creative Commons Attribution-ShareAlike 4.0 International License.
Currently this Journal is Indexed by