PENERAPAN SAINS TEKNOLOGI MASYARAKAT (STM) UNTUK PENINGKATKAN KEMAMPUAN PEDAGOGIK GURU DAN CALON GURU PAUD KEC. PANJER KAB. KEBUMEN
Abstract
Abstract
The aim of this service is to improve the usage of ICT (Information and Communication Technology) as supporting research for PAUD?s teacher. The lack of knowledge of PAUD teachers? science experiments still be a problem for most of PAUD in Indonesia. One effort to treat the condition is to provide training related to the research and writing scientific papers, ICT training for research, and science learning of PAUD for the PAUD?s teachers. So the training process go faster, it is necessary to do the integration of all three. One method of integrating is using the concept of Science Technology Society (STS) Multi strategy where the final result of the application of these methods is to produce 
teachers of PAUD who ready to do the research and be able to make ICT as a tool to accelerate research. The form of the product resulting from this activity was Journals/Papers/Classroom action research (PTK ) of each PAUD?s teachers are ready to be published, the knowledge and ability of science experiments in PAUD?s learning by PAUD?s teachers. Application of STS can improve the competence of PAUD teachers' ability by 30%.
Keywords: Science Technology Society (STS), PAUD, ICT
Abstrak
Tujuan dari layanan ini adalah untuk meningkatkan penggunaan ICT (Teknologi Informasi dan Komunikasi) sebagai menduku ng penelitian bagi guru PAUD. Kurangnya pengetahuan tentang PAUD guru percobaan sains masih menjadi masalah bagi sebagian besar PAUD di Indonesia. Salah satu upaya untuk mengatasi kondisi tersebut adalah untuk memberikan pelatihan yang berkaitan dengan penelitian dan penulisan karya ilmiah, pelatihan ICT untuk penelitian, dan pembelajaran ilmu PAUD untuk guru PAUD. Proses pelatihan dilakukan
dengan toga integrasi. Sal ah satu metode integrasi menggunakan konsep Sains Teknologi Masyarakat (STM) dan hasil akhir dari penerapan metode ini adalah untuk menghasilkan guru PAUD yang siap untuk melakukan penelitian dan dapat membuat ICT sebagai alat untuk mendukung penelitian. Bentuk produk yang dihasilkan dari kegiatan ini adalah tindakan penelitian Jurnal/ Makalah/Kelas (PTK) guru masing-masing PAUD siap untuk dipublikasikan. Meningkatnya pengetahuan dan kemampuan percobaan sains dalam pembelajaran. Dan penerapan STM dapat meningkatkan kompetensi kemampuan PAUD guru sebesar 30%.
Kata Kunci: Sains Teknologi Masyarakat (STM), PAUD, ICT
DOI:
https://doi.org/10.34001/jdc.v1i1.441
Article Metrics
Abstract view : 238 times
ABSTRACT PDF - 66 times
FULL TEXT PDF - 320 times
Refbacks
There are currently no refbacks.
We are Proud Member of Asosiasi Jurnal Pengabdian Kepada Masyarakat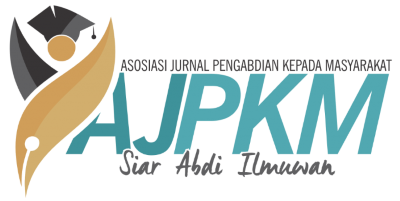 Journal of Dedicators Community is licensed under a Creative Commons Attribution-ShareAlike 4.0 International License.
Currently this Journal is Indexed by