Pelatihan Kerajinan Eceng Gondok di Kecamatan Banyubiru untuk Menumbuhkan Wirausaha Baru
Abstract
The aim of community service carried out by KKN students in Kebondowo Village and Demakan Village, Banyubiru District, located around Rawapening, is 1) to provide easy use of water hyacinth; 2) provide practical skills in the use of social media for marketing; 3) reduce the skill level of the skill briefing. The methods used in completing the objectives are 1) training in material assistance, 2) practical assistance to finishing, 3) business analysis and marketing. The results of these mentoring activities are: 1) increased workforce capable of making handicrafts from water hyacinth in a number of forms; 2) product marketing at the Rawa Pening lake attraction, Bukit Cinta and provincial level bazaar and expo events; also 3) helps businesses make social media also join in and fill content with product images. Overall, the outputs from this service were obtained and strived to be owned, strived to be independent, production, and consultation with UNNES.
Keywords
Rawapening; handicraft; Eichornia crassipes; marketing
References
Nata, I. F., Niawati, H., & Muizliana, C. (2013). Pemanfaatan serat selulosa eceng gondok (Eichhornia Crassipes) sebagai bahan baku pembuatan kertas: isolasi dan karakterisasi. Konversi, 2(2), 9-16.
Pasaribu, G. 2008. Pengolahan Eceng Gondok Sebagai Bahan Baku Kertas Seni. Makalah Utama Pada Eksposs Hasil-hasil Penelitian : Konservasi dan Rehabilitasi Sumberdaya Hutan, Padang.
Setyanto, K. (2011). PEMANFAATAN ECENG GONDOK UNTUK MEMBERSIHKAN KUALITAS AIR SUNGAI SUNGAI GADJAHWONG YOGYAKARTA. Jurnal Teknologi Technoscientia, 17-22.
Sittadewi, E. H. (2011). Pengolahan Bahan Organik Eceng Gondok Menjadi Media Tumbuh untuk Mendukung Pertanian Organik. Jurnal Teknologi Lingkungan, 8(3).
Yunus, R., Priatmadi, B. J., Leksono, A. S., & Kusuma, Z. Effect of pH changes on the growth of water hyacinth (Eichhornia crassipes (Mart.) Solms.) in acid mine drainage. Journal of Biodiversity and Environmental Sciences (JBES).
DOI:
https://doi.org/10.34001/jdc.v4i1.972
Article Metrics
Abstract view : 469 times
PDF - 439 times
Refbacks
There are currently no refbacks.

This work is licensed under a
Creative Commons Attribution-ShareAlike 4.0 International License
.
We are Proud Member of Asosiasi Jurnal Pengabdian Kepada Masyarakat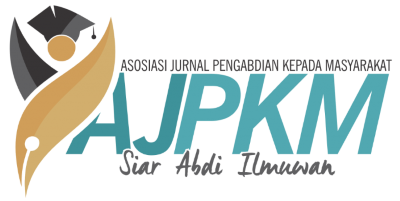 Journal of Dedicators Community is licensed under a Creative Commons Attribution-ShareAlike 4.0 International License.
Currently this Journal is Indexed by