Pelatihan Metode Pembelajaran Bahasa Jawa Krama untuk Usia Dini Bagi Guru RA dan MI
Abstract
Javanese language is very important to students learn since early childhood. Where through Javanese language children can understand the positive value in the self-character. While learning Javanese etiquette in RA Miftahul Ulum and MI Miftahul Ulum 02 is still not optimal. So it is necessary to conduct training for teachers in RA Miftahul Ulum and MI Miftahul Ulum 02 in the lower classes related to the method of learning Javanese etiquette. Through this activity, the team provided training with demonstration methods about interesting learning methods, interactive and can be used to teach Javanese language especially "Krama"  to early childhood. In this case early childhood is a low grade RA and MI student and training is given to teachers in RA Miftahul Ulum and MI Miftahul Ulum 02 in the lower class. This service activity has several stages which include, briefing and direction, implementation, monitoring, and evaluation. The results of this training received good appreciation from the partners. Partners actively participate in training activities. In addition, through practical activities, participants can practice the learning methods provided, so that participants are able to provide problems solving in the difficulties experienced by teachers in learning Javanese language for early childhood
Keywords
Learning method; Javanese language; early childhood
References
Arafik, M., & Rumidjan, R. (2017). Profil Pembelajaran Unggah-ungguh Bahasa Jawa di Sekolah Dasar. Sekolah Dasar: Kajian Teori dan Praktik Pendidikan, 25(1), 55–61.
Barbour, N. B. (1992). Early childhood gifted education: A collaborative perspective. Journal for the Education of the Gifted, 15(2), 145–162.
Gunawan, V., Yuline, & Halida. (2014). Peningkatan Kemampuan Pengucapan Bahasa Inggris Melalui Metode Bernyanyi Pada Anak Usia 5-6 Tahun. Jurnal Pendidikan Dan Pembelajaran, 3(8). Diambil dari http://jurnal.untan.ac.id/index.php/jpdpb/article/view/6723
Harjawiyana, H., & Supriya, T. (2001). Kamus unggah-ungguh basa Jawa. Kanisius.
Laila, W. N. (2016). Konsep Diri Remaja Muslim Pengguna Bahasa Jawa Krama. Profetik: Jurnal Komunikasi, 9(2), 61–69. https://doi.org/10.14421/pjk.v9i2.1206
Munandar, A. (2013). Pemakaian Bahasa Jawa dalam Situasi Kontak Bahasa di Daerah Istimewa Yogyakarta. Jurnal Humaniora, 25(1), 92–102. https://doi.org/10.22146/jh.v25i1.1819
Pitoyo, A. (2017). Interferensi Bahasa Jawa ke dalam Bahasa Indonesia Mahasiswa Program Studi Pendidikan Bahasa dan Sastra Indonesia dalam Perkuliahan Keprotokolan. Jurnal Pena Indonesia, 3(2), 185–200.
Putri, N. E., Widodo, M., & Suyanto, E. (2017). Interferensi Leksikal Bahasa Jawa ke dalam Bahasa Indonesia pada Karangan Siswa. Jurnal Kata (Bahasa, Sastra, dan Pembelajarannya), 5(2, April).
Rahayu, D., Hamid, S. I., & Sutini, A. (2018). Peningkatan Keterampilan Sosial Anak Usia Dini Melalui Permainan Tradisional. Cakrawala Dini: Jurnal Pendidikan Anak Usia Dini, 7(2). https://doi.org/10.17509/cd.v7i2.10527
Siska, Y. (2011). Penerapan metode bermain peran (role playing) dalam meningkatkan keterampilan sosial dan keterampilan berbicara anak usia dini. Jurnal Edukasi. UPI. Edisi Khusus, 2.
Suharyo, S. (t.t.). Nasib Bahasa Jawa dan Bahasa Indonesia dalam Pandangan dan Sikap Bahasa Generasi Muda Jawa. Nusa: Jurnal Ilmu Bahasa dan Sastra, 13(2), 244–255.
Sukoyo, J., & Suwandi, S. (2013). Hubungan Antara Penguasaan Tingkat Tutur Dan Sikap Ekstrovert Dengan Keterampilan Berbicara Krama Alus Mahasiswa Program Studi Pendidikan Bahasa Dan Sastra Jawa Universitas Negeri Semarang. Jurnal Pendidikan Bahasa dan Sastra, 1(1), 97–107.
Sutardjo, I. (2008). Kajian Budaya Jawa. Jurusan Sastra Daerah, Fakultas Sastra dan Seni Rupa, Universitas Sebelas Maret.
Suyadi. (2013). Konsep dasar PAUD. PT Remaja Rosdakarya.
Turaeni, T. (2006). Penggunaan Bahasa Indonesia dalam Keluarga Muda Etnis Bali. SEMIOTIKA: Jurnal Ilmu Sastra Dan Linguistik, 7(1), 68–73. Diambil dari https://jurnal.unej.ac.id/index.php/SEMIOTIKA/article/view/6972
DOI:
https://doi.org/10.34001/jdc.v3i2.876
Article Metrics
Abstract view : 233 times
PDF - 89 times
Refbacks
There are currently no refbacks.
We are Proud Member of Asosiasi Jurnal Pengabdian Kepada Masyarakat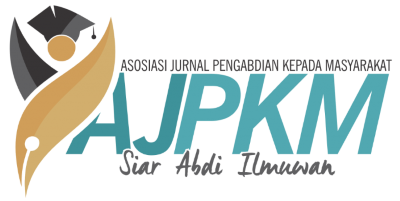 Journal of Dedicators Community is licensed under a Creative Commons Attribution-ShareAlike 4.0 International License.
Currently this Journal is Indexed by