Diseminasi Teknologi Mesin Genset Tenaga Surya Bagi Masyarakat Terdampak Bencana Gunung Merapi Desa Wukirsari Kecamatan Cangkringan Kabupaten Sleman
Abstract
The problem experienced by Wukirsari Village as one of the areas affected by the Mount Merapi disaster is the frequent occurrence of PLN power outages. To overcome this problem, the dissemination of technology products to the community aims to improve the ability of Wukirsari villagers to make natural electricity based on solar power and use solar power generator technology and be able to increase the value of sales and marketing. Outputs generated from this activity include the development of a number of group members, training in the use and maintenance of solar generator sets, training in the manufacture of solar engine generator sets, good financial management training and product sales and marketing training. This activity has resulted in: (1) solar generator products that have been carefully prepared with good results by the UPGRIS team, (2) villagers of Wukirsari are able to treat and use properly and correctly, (3) symbolic delivery to 3 residents solar power generator with capacity, 900 Watt, 1200 Watt and 1500 Watt
Keywords
Dissemination; product innovation; solar power generator engine
References
Abi, I. K. (2018). Strategi Badan Usaha Milik Desa (BUMDESA Pandansari) dalam Upaya Pengembangan Desa Wisata pada Desa Wukirsari Kecamatan Cangkringan Kabupaten Sleman
Bismala, L. (2017). Model Manajemen Usaha Mikro Kecil dan Menengah (UMKM) untuk Meningkatkan Efektivitas Usaha Kecil Menengah. Jurnal Entrepreneur dan Entrepreneurship, 5(1), 19–26.
Darmansah, A., Nugroho, T., & Supriyono, E. (2017). Pemberdayaan masyarakat melalui pengembangan polikultur bandeng dan udang di Desa Karangsong, Indramayu, Jawa Barat. Agrokreatif Jurnal Ilmiah Pengabdian kepada Masyarakat, 2(2), 92–99.
Dzakiy, M. A., Buchori, A., Nurdyansyah, F., Istiyaningsih, R., & Nindita, V. (2017). Pembuatan Desain Kolam Ikan Bandeng Berbasis Konsep Biosecurity Bagi Masyarakat Petani Tambak di Pesisir Kabupaten Demak. Journal of Dedicators Community, 1(2), 103–113.
Egar, N., Fahmi, D. A., Yulianti, F., & Musarokah, S. (2017). Pemberdayaan Remaja Desa Wisata Bendosari Kecamatan Plantungan Kabupaten Kendal Melalui Pelatihan Kepemanduwisataan. Journal of Dedicators Community, 1(2), 150–157.
Kumara, N. (2010). Pembangkit listrik tenaga surya skala rumah tangga urban dan ketersediaannya di Indonesia. Majalah Ilmiah Teknologi Elektro.
Ningtyas, L. H. (2017). Evaluasi Implementasi Pembinaan Akhlak Anak di Panti Asuhan Al-Hikmah Desa Plupuj, Cangkringan, Sleman.
Nugroho, W. T. (2013). Pengembangan Produk Genset Energi Surya dan Angin Terpadu Berbasis Quality Function Deployment. Jurnal Ilmiah Inovasi, 13(1). https://doi.org/10.25047/jii.v13i1.61
Pujianto, A., Astuti, P., & Martyana, D. C. (2017). Evaluasi Pelaksanaan Rehabilitasi dan Rekonstruksi Pasca Bencana Erupsi Merapi Tahun 2010. UMY.
Sari, D. E. (2017). Pendampingan Masyarakat Desa Tasikmadu dalam Upaya Pengurangan Risiko Bencana Hidrometeorologi Melalui Pemetaan Partisipatif Tata Ruang Desa dengan SIG (Sistem Informasi Geografis) dan SID (Sistem Informasi Desa) Sebagai Media Penyadaran Masyarakat (PhD Thesis). UIN Sunan Ampel Surabaya.
DOI:
https://doi.org/10.34001/jdc.v3i2.811
Article Metrics
Abstract view : 163 times
PDF - 95 times
Refbacks
There are currently no refbacks.
License URL:
http://creativecommons.org/licenses/by-sa/4.0/
We are Proud Member of Asosiasi Jurnal Pengabdian Kepada Masyarakat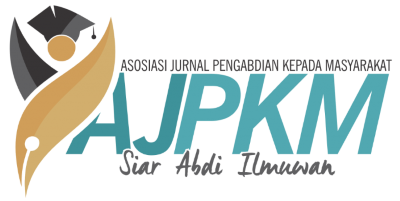 Journal of Dedicators Community is licensed under a Creative Commons Attribution-ShareAlike 4.0 International License.
Currently this Journal is Indexed by