Replikasi SIPBM, Pembentukan Pospaud, dan Peningkatan Mutu Dokter Kecil di Desa Cigadung dan Parereja Kecamatan Banjarharjo Kabupaten Brebes
Abstract
The target of the Partnership Program's activities is Parereja and Cigadung village, district of Banjarharjo, Brebes regency. Priority issues that be the focus on this partnership program are: (1) Quite a lot of early childhood have not served yet in PAUD; (2) There are school-aged children in primary education level not going to school; (3) The high number of stunting and maternal mortality rate (4) The lack of awareness about nutrition of pregnant women and toddlers; (5) The lack of health services for children in school. The target that has been achieved are: (1) The availability of community-based education data in 2018 as a reference for organizing Cigadung village program in the next year; (2) Formed a POSPAUD model in Parereja; (3) formed PKBM in Parereja; (4) The availability of the health equipment and skills of the UKS and little doctor in Cigadung 01 and Parereja 01 elementary school. The methods that used in this program are the empowerment of the Community (community-based), training approaches, demonstrations, simulations, and practice with assistance. In addition, followed by strengthening community-based human resources who collaborate-participatively with Baperlitbangda and local college to ensure the quality and sustainability of the program
Keywords
Replication SIPBM (Community Based Development Information System), POSPAUD, young doctor
References
Abidin, Khaerul. 2016. Satu Data untuk Semua. Info TKPK. Edisi kelima Tahun 2016. Halaman 13-14
Badan Pusat Statistik Kabupaten Brebes. 2016. Kabupaten Brebes dalam Angka 2016. Brebes: BPS Kabupaten Brebes.
Baperlitbangda. 2016. Data Kemiskinan dan IPM Kabupaten Brebes 2010-2016.(Materi paparan Kabid Pemsosbud, Baperlitbangda Kabupaten Brebes)
Rahayu, W. W. (2014). Empathy Grown Through KKN PPM UGM Towards Unity and Coalescence Of Pamulihan Community. Jurnal Pengabdian Sriwijaya, 2(2), 167-182.
Setiawan, M. B., & Hakim, A. (2013). Indeks pembangunan manusia Indonesia. Jurnal Economia, 9(1), 18-26.
Pradono, J., & Sulistyowati, N. (2014). (Correlation between Education Level, Knowledge of Environmental Health, Healthy Behavior with Health Status) Correlation Study on People Aged 10–24 in Jakarta Pusat. Buletin Penelitian Sistem Kesehatan, 17(1 Jan). doi:10.22435/bpsk.v17i1 Jan.3579
……… 2016. Basis Data Terpadu (BDT) Tahun 2015 Kabupaten Brebes. Info TPK. Edisi kelima Tahun 2016, halaman 29-30.
………2012. RPJMD Kabupaten Brebes Tahun 2012-2017. Baperlitbangda Kabupaten Brebes
………2017. RPJMD Kabupaten Brebes Tahun 2017-2022 (Draft). Baperlitbangda Kabupaten Brebes
DOI:
https://doi.org/10.34001/jdc.v3i1.771
Article Metrics
Abstract view : 116 times
PDF - 118 times
Refbacks
There are currently no refbacks.
We are Proud Member of Asosiasi Jurnal Pengabdian Kepada Masyarakat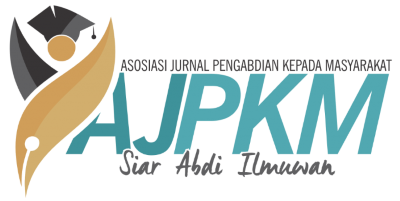 Journal of Dedicators Community is licensed under a Creative Commons Attribution-ShareAlike 4.0 International License.
Currently this Journal is Indexed by