PEMBERDAYAAN MASYARAKAT DALAM PEMBUATAN BALSAM METIL SALISILAT UNTUK MENGATASI RASA NYERI SENDI DAN OTOT DI LINGKUNGAN MOJOSONGO SURAKARTA
Abstract
Abstract
Pain is an uncomfortable feeling that is often felt by the majority of the Indonesian people. Pain involves two aspects: psychological and physiological both affected by factors such as culture, age, environment and support systems, past experience, anxiety and stress. The purpose of the program of activities of community service is to prov ide knowledge about the definition and the factors that influence pain, especially joint and muscle pain as well as provide training for people Tegal Mulyo RT 01 RW 04, Tegalmulyo village Mojosongo, district Jebres in the manufacture of balsam methyl salicylate easy and cheap. The method has been used in this activity is already done counseling about pain relief and making training balm containing metisalisilat to overcome joint and muscle pain. The benefits of this activity is to increase public knowledge about pain, especially joint and muscle pain, as well as increasing the ability of communities to make an ointment Metil Salisilat independently which is easy and cheap.
Keywords: Methyl salicylate, balm, joint pain, muscle pain
Abstrak
Nyeri adalah perasaan tidak nyaman yang sering dirasakan oleh sebagian besar masyarakat Indonesia. Nyeri melibatkan dua aspek: psikologis dan fisiologis baik dipengaruhi oleh faktor-faktor seperti budaya, usia, lingkungan dan dukungan sistem, pengalaman masa lalu, kecemasan dan stres. Tujuan dari program kegiatan pelayanan masyarakat adalah untuk memberikan pengetahuan tentang definisi dan faktor-faktor yang mempengaruhi nyeri, terutama nyeri sendi dan otot serta memberikan pelatihan bagi orang Tegal Mulyo RT 01 RW 04, Tegalmulyo Desa Mojosongo, Jebres kabupaten di pembuatan balsam metil salisilat mudah dan murah. Metode ini telah digunakan
dalam kegiatan ini sudah dilakukan penyuluhan tentang nyeri dan membuat balm pelatihan yang mengandung metisalisilat untuk mengatasi nyeri sendi dan otot. Manfaat dari kegiatan ini adalah untuk meningkatkan pengetahuan masyarakat tentang rasa sakit, nyeri terutama sendi dan otot, serta meningkatkan kemampuan masyarakat untuk membuat salep Metil salisilat secara independen yang mudah dan murah.
Kata Kunci:Â Metil salisilat, balsam, nyeri sendi,nyeri otot
References
Mason, L.; Moore, RA; Edwards, JE; McQuay, HJ; Derry, S; Wiffen, PJ
(2004). "Systematic review of efficacy of topical rubefacients containing salicylates for the treatment of acute and chronic pain". BMJ. 328 (7446): 995
DOI:
https://doi.org/10.34001/jdc.v1i1.440
Article Metrics
Abstract view : 442 times
ABSTRACT PDF - 84 times
FULL TEXT PDF - 1679 times
Refbacks
There are currently no refbacks.

This work is licensed under a
Creative Commons Attribution-ShareAlike 4.0 International License
.
We are Proud Member of Asosiasi Jurnal Pengabdian Kepada Masyarakat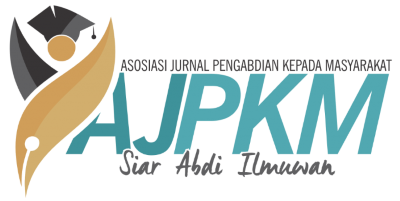 Journal of Dedicators Community is licensed under a Creative Commons Attribution-ShareAlike 4.0 International License.
Currently this Journal is Indexed by