IBM KELOMPOK USAHA KERAJINAN IKAT PINGGANG
Abstract
Abstract
Belt handicraft industry developed in Sendangmulyo village is the result of village entrepreneurial management training held in 2012. The problems faced to develop this industry is production, marketing, business management and financial administration. The limited production is caused by lack of sewing machines and ability to print its own logo. Problem of promot ion field is caused by the simple way to do the promotion. In financial management, this industrial cluster has not done regular financial accounting. By IBM program, it will help to
overcome these problems faced by belt handicraft industry. Developing of belt handicraft industry held using participation method by empowering communities potential, such as socialization, training or mentoring. The results of IBM program are (1) industrial cluster has blog, brochure and catalog as marketing media, (2) industrial cluster has simple organization, (3) industrial cluster has done recording transaction with computer (4) Belt handicraft industrial cluster has capability to print its own logo.
Keywords: Belt handicraft, training, mentoring
Abstrak
Industri kerajinan ikat pinggang dikembangkan di desa Sendangmulyo adalah hasil dari pelatihan manajemen kewirausahaan desa yang diadakan pada tahun 2012. Masalah yang dihadapi untuk mengembangkan industri ini adalah produksi, pemasaran, manajemen bisnis dan administrasi keuangan. Produksi terbatas disebabkan oleh kurangnya mesin jahit dan kemampuan untuk mencetak logo sendiri. Masalah bidang promosi disebabkan oleh cara sederhana untuk melakukan promosi. Dalam manajemen keuangan, klaster industri ini
belum dilakukan akuntansi keuangan biasa. Dengan Program IBM, ini 
akan membantu untuk mengatasi masalah ini dihadapi oleh industri sabuk kerajinan. Mengembangkan industri kerajinan sabuk diadakan menggunakan metode partisipasi masyarakat memberdayakan potensi, seperti sosialisasi, pelatihan atau mentoring. Hasil program IBM yang (1) klaster industri memiliki blog, brosur dan katalog media pemasaran, (2) klaster industri memiliki organisasi sederhana, (3) klaster industri telah melakukan pencatatan transaksi dengan komputer (4) Kerajinan klaster industri memiliki kemampuan untuk mencetak logo sendiri.
Kata kunci: Ikat pinggang, kerajinan tangan, pelatihan, mentoring
References
Sulistyawati, Salviana. et al. ?Program IPTEK Bagi Masyarakat (IbM) Sebagai Pemicu Pengembangan Usaha Kelompok Industri Rajut di Kelurahan Tulus Rejo Kota Malang? . (2013) Dedikasi
Swaputra, Wardita, et al. ? Peningkatan Produktivitas Usaha Handycraft Besi Melalui Pendidikan Manajerial.? (2011) Jurnal Ngayah
DOI:
https://doi.org/10.34001/jdc.v1i1.436
Article Metrics
Abstract view : 110 times
ABSTRACT PDF - 62 times
FULL TEXT PDF - 164 times
Refbacks
There are currently no refbacks.
We are Proud Member of Asosiasi Jurnal Pengabdian Kepada Masyarakat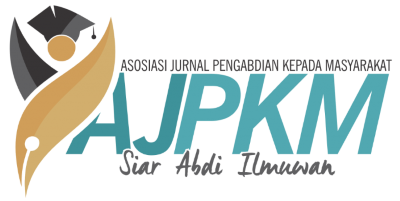 Journal of Dedicators Community is licensed under a Creative Commons Attribution-ShareAlike 4.0 International License.
Currently this Journal is Indexed by