Peningkatan Literasi Digital Mahasiswa UNUSA Untuk Pengamanan Data Pribadi
Abstract
Transformasi era digital 4.0 dan penggunaan media sosial di masyarakat, terutama para remaja milenial khususnya mahasiswa memberikan pengaruh transformasi keterbukaan data personal yang mudah didapatkan. Hal ini disebabkan oleh beberapa aplikasi yang didownload dan terpasang di handphone para milenial, dimana kurangnya awareness-nya dengan tidak menghiraukan aturan kesepakatan dalam permulaan instalasi setiap aplikasi atau kadang kurangnya pemahaman aturan kesepakatan aplikasi yang sering disediakan dalam bahasa inggris. Bahkan tidak sedikit, mahasiswa yang tidak sengaja terjebak dalam pinjaman online dengan menyerahkan data pribadi dan informasi personal lainnya dalam mengakses data didalam handphonenya. Kurangnya pengetahuan terkait literasi digital dalam pengamanan data pribadi sehingga dapat menyebabkan penggunaan data pribadi yang tidak sesuai harapan. Adanya pembelajaran seperti pengenalan etika berinternet, pengenalan dasar ethical hacking terkait pengenalan protocol dan spoofing serta pembagian informasi seputar keamanan aset informasi sangat dibutuhkan. Dengan kegiatan pengabdian masyarakat berbasis pembelajaran digitalisasi ini, edukasi digital terkait peningkatan literasi digital keamanan data pribadi yang dikhususkan bagi Mahasiswa UNUSA agar memahami pentingnya menjaga data pribadi agar tidak disalahgunakan oleh orang-orang yang tidak bertanggung jawab. Walaupun penggunaan teknologi dan keterbukaan akses internet khususnya di Indonesia belum bisa sepenuhnya mewadahi keamanan siber baik informasi dan komunikasi tetapi semua bisa dilakukan secara bertahap sehingga masyarakat khususnya para milenial untuk belajar etika berinternet dan pembelajaran khusus pengenalan dasar ethical hacking untuk lebih mengenal cara pengamanan data sehingga bisa menjadi solusi di era digital yang serba terbuka.
Keywords
Literasi Digital; Media Sosial; Keamanan Data; Aplikasi Digital; Edukasi Digital.
References
Bandiyono, A., & Indrianto, N. P. P. (2019). E-Rekon LK Application as a Form of Accounting and E-Government Information Systems Implementation in Indonesia. International Journal of Innovation, Creativity and Change, 8(3), 23–40.
Budiarti, R. P. N., Maulana, J., & Sukaridhoto, S. (2018). Aplikasi DIY Smart Trash Berbasis IoT Open Platform. Applied Technology and Computing Science Journal, 1(2), 93–104.
Budiarti, R. P. N., & Pratomo, I. (2018). Pembuatan Sistem Informasi E-Book (Serbuk) Sebagai Media Pembelajaran Siswa Di SMA Negeri 1 Gresik. Community Development Journal, 2(1).
Budiarti, R. P. N., Tjahjono, A., Hariadi, M., & Purnomo, M. H. (2019). Development of IoT for Automated Water Quality Monitoring System. 2019 International Conference on Computer Science, Information Technology, and Electrical Engineering (ICOMITEE), 211–216.
Garbowski, M., Drobyazko, S., Matveeva, V., Kyiashko, O., &
Dmytrovska, V. (2019). Financial accounting of E-business enterprises. Academy of Accounting and Financial Studies Journal, 23, 1–5.
Habib, H., Naeini, P. E., Devlin, S., Oates, M., Swoopes, C., Bauer, L., Christin, N., & Cranor, L. F. (2018). User behaviors and attitudes under password expiration policies. Fourteenth Symposium on Usable Privacy and Security (SOUPS 2018), 13–30.
Han, C.-C., Cheng, H.-L., Lin, C.-L., & Fan, K.-C. (2003). Personal authentication using palm-print features. Pattern Recognition, 36(2), 371–381.
Harper, A., Linn, R., Sims, S., Baucom, M., Fernandez, D., Tejeda, H., & Frost, M. (2022). Gray hat hacking: the ethical hacker's handbook. McGraw-Hill Education.
Hermawan, R. (2015). Kesiapan Aparatur Pemerintah dalam Menghadapi Cyber Crime di Indonesia. Faktor Exacta, 6(1), 43–50.
Juneja, G. K. (2013). Ethical hacking: a technique to enhance information security. International Journal of Innovative Research in Science, Engineering and Technology, 2(12), 7575–7580.
Kumar, R., Amin, R., Karati, A., & Biswas, G. P. (2016). Secure remote login scheme with password and smart card update facilities.
Proceedings of the 4th International Conference on Frontiers in Intelligent Computing: Theory and Applications (FICTA) 2015, 495–505.
Matyas, V., & Riha, Z. (2003). Toward reliable user authentication through biometrics. IEEE Security & Privacy, 1(3), 45–49.
Munjal, M. N. (2014). Ethical hacking: an impact on society. Cyber Times Int J Technol Manag, 7, 922–931.
Patil, S., Jangra, A., Bhale, M., Raina, A., & Kulkarni, P. (2017). Ethical hacking: The need for cyber security. 2017 IEEE International Conference on Power, Control, Signals and Instrumentation Engineering (ICPCSI), 1602–1606.
Putra, R. C. W., & Widiatedja, I. G. N. P. (2015). PERLINDUNGAN HUKUM BAGI KORBAN PENCURIAN INFORMASI PRIBADI MELALUI DUNIA CYBER DITINJAU DARI UNDANG-UNDANG NO. 11 TAHUN 2008 TENTANG INFORMASI DAN TRANSAKSI ELEKTRONIK (UU ITE). Kertha Wicara: Journal Ilmu Hukum.
Rahayuda, S. (2017). Evaluasi Penggunaan Framework Laravel Pada E-government Menggunakan ISO/IEC 25010: 2011. JURNAL IPTEKKOM (Jurnal Ilmu Pengetahuan & Teknologi Informasi), 19(1), 81–94.
Salim, A., Budiarti, R. P. N., & Yudianto, F. (2020). RANCANG BANGUN APLIKASI WEBSITE PENDAFTARAN PESERTA DIDIK BARU (PPDB) MADRASAH IBTIDAIYAH NAHDLATUL ULAMA (MINU) WARU II DENGAN MENGGUNAKAN CODEIGNITER. NATIONAL CONFERENCE FOR UMMAH (NCU) 2020, 1(1).
Sandhya, S., Purkayastha, S., Joshua, E., & Deep, A. (2017). Assessment of website security by penetration testing using Wireshark. 2017 4th International Conference on Advanced Computing and Communication Systems (ICACCS), 1–4.
Sartika, R., Siregar, S. A. I., & Sari, N. P. R. K. (2020). Kekhususan Proses Penyidikan Tindak Pidana Cyber Crime. Jurnal Aktual Justice, 5(1), 38–55.
Singh, G. D. (2019). Learn Kali Linux 2019: Perform Powerful Penetration Testing Using Kali Linux, Metasploit, Nessus, Nmap, and Wireshark. Packt Publishing Ltd.
Smith, B., Yurcik, W., & Doss, D. (2002). Ethical hacking: The security justification redux. IEEE 2002 International Symposium on Technology and Society (ISTAS'02). Social Implications of Information and Communication Technology. Proceedings (Cat. No. 02CH37293), 374–379.
SRIDHAR, K. (n.d.). A Technique to Enhance Information Security in Ethical Hacking.
Subchan, M., & Setiadi, D. (2020). Information System For Sale Of Muslim Clothes Based On E-Commerce Technology: Information System For Sale Of Muslim Clothes Based On E-Commerce Technology. Jurnal Mantik, 4(1), 311–318.
Sukron, M. C., Budiarti, R. P. N., & Kamil, A. S. (2020). Implementation of Nadhir Online Registration System in Badan Wakaf Indonesia Using Agile Development Methods. Applied Technology and Computing Science Journal, 3(1), 30–47.
Ushmani, A. (2018). Ethical hacking. International Journal of Information Technology (IJIT), 4(6).
Yohanie, Y., Panduman, F., Rachmat, A., Besari, A., Sukaridhoto, S., Budiarti, R. P. N., Sudibyo, R. W., & Nobuo, F. (2018). Implementation of Integration VaaMSN and SEMAR for Wide Coverage Air Quality Monitoring. TELKOMNIKA, 16(6), 2630–2642. https://doi.org/10.12928/TELKOMNIKA.v16i6.10152.
DOI:
https://doi.org/10.34001/jdc.v7i1.3775
Article Metrics
Abstract view : 118 times
PDF - 11 times
Refbacks
There are currently no refbacks.

This work is licensed under a
Creative Commons Attribution-ShareAlike 4.0 International License
.
We are Proud Member of Asosiasi Jurnal Pengabdian Kepada Masyarakat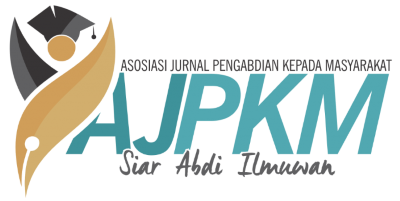 Journal of Dedicators Community is licensed under a Creative Commons Attribution-ShareAlike 4.0 International License.
Currently this Journal is Indexed by