Strategi Pengemasan dan Pelabelan Produk Jajanan Jadul di Kelurahan Siwalan Kecamatan Gayamsari Semarang
Abstract
Businessman of old snack in Thematic Village, Siwalan Village, their marketing is still very limited and traditionally managed. Business actors also didn't have proper product packaging and labeling. The aim of the Community Service Program is businessman of old snack able to implement packaging and labeling strategies in developing their products and spreading their market. This dedication activity is carried out with marketing management counseling methods, assistance in making packaging and labeling. The results of this activity are the businessman mastery of the packaging and labeling strategy and can apply simply online based marketing.  Businessman of old snack are very enthusiastic to participate in this community service
Keywords
Packaging; Labelling; Businessman of old snack
References
Akbar, T. (2018). Kampung Tematik Sebagai Bentuk Partisipasi Masyarakat Dalam Permasalahan Permukiman Kumuh Di Kota Malang. WAHANA, 70(2), 37–48.
Ash Shadiq Egim, N. (2019). Strategi Pengembangan Industri Makanan Khas Daerah di Kota Padang Dengan Pengemasan dan Pemasaran Berbasis Teknologi. Jurnal Menara Ekonomi: Penelitian dan Kajian Ilmiah Bidang Ekonomi, 5(3).
Hidayat, Y., & Triharyanto, E. (2016). Peningkatan Daya Jual Aneka Produk Olahan Makanan Melalui Teknik Pengemasan Produk. Jurnal Kewirausahaan dan Bisnis, 19(10).
Irrubai, M. L. (2015). Strategi Labeling, Packaging dan Marketing Produk Hasil Industri Rumah Tangga di Kelurahan Monjok Kecamatan Selaparang Kota Mataram Nusa Tenggara Barat. SOCIETY, 6(1), 15–30.
Juwariyah, T., & Krisnawati, L. (2019). Pemanfaatan E-Commerce Bagi Ibu-Ibu Pengusaha Mikro RT 02 RW 014 Desa Simpangan, Kecamatan Cikarang Utara. SABDAMAS, 1(1), 355–361.
Martuti, N. K. T. (2019). Preferensi Masyarakat Terhadap Program Kampung Tematik Di Kota Semarang. Jurnal Riptek, 11(2), 11–22.
Mustanir, A., Hamid, H., & Syarifuddin, R. N. (2019).
Pemberdayaan Kelompok Masyarakat Desa Dalam Perencanaan Metode Partisipatif. Moderat: Jurnal Ilmiah Ilmu Pemerintahan, 5(3), 227–239. https://doi.org/10.25147/moderat.v5i3.2677
Supriyono, S., & Sumardiyono, S. (2018). IbM Tungku Pembakaran Performa Tinggi Dengan Bahan Bakar Limbah Kacang Dieng. ABDIMAS UNWAHAS, 3(1).
Wijayanti, R., & Suratman. (2019). Pembinaan Kewirausahaan Masyarakat Kelurahan Siwalan Kecamatan Gayamsari Sebagai Upaya Pengembangan Kampung Tematik Jajanan Jadul di Kota Semarang. https://repository.usm.ac.id/detail-pengabdian-128.html
DOI:
https://doi.org/10.34001/jdc.v4i2.1090
Article Metrics
Abstract view : 390 times
PDF - 485 times
Refbacks
There are currently no refbacks.

This work is licensed under a
Creative Commons Attribution-ShareAlike 4.0 International License
.
We are Proud Member of Asosiasi Jurnal Pengabdian Kepada Masyarakat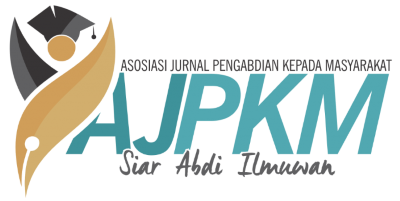 Journal of Dedicators Community is licensed under a Creative Commons Attribution-ShareAlike 4.0 International License.
Currently this Journal is Indexed by